In the novel, Jane Eyre is described as small and extremely plain. She is ten when the novel begins, and for most her childhood, she is abused, unloved, and underfed, first by her aunt and cousins, then by the cruel clergymen who run her school. At least fifteen film versions of the novel exist, but in this post, we'll focus on just three -- the 2006, 1996, and 1944 films, which in our opinion are the most famous.

Which young actress makes the best young Jane?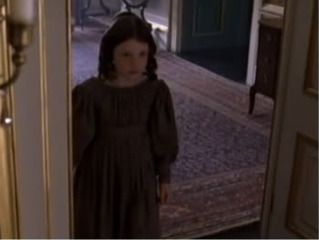 Georgie Henley, 2006. Georgie is a fine young actress, but she's just not right for this role. Physically, she's too pretty and chubby to be plain little Jane. (I'm not knocking her for being chubby here; rather, I applaud her for setting a realistic example for other girls. But she shouldn't be cast as a chronically underfed character.) And notice her rather fancy hairstyle. Jane was an unloved child, so in the heck took the time to style her hair into curls and a bun?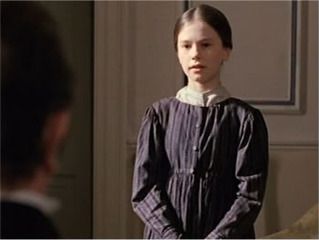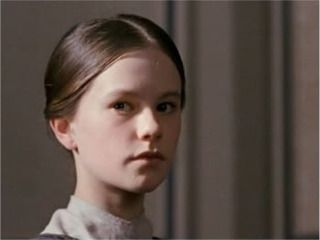 Anna Paquin, 1996. Anna is a good choice to play Jane. She is no longer the cute little girl from The Piano, but a pretty young lady, though not quite too pretty to play Jane. Her hair and dress are plain for the Victorian period, though they may seem fancy today. Anna also brings a more rebellious spirit to Jane than any other young actress I've seen in the role. Our friends at Young Actress Reviews write, "There is the uniquely birdish, loose way she moves her head and even shades of the uppity attitude she had in The Piano."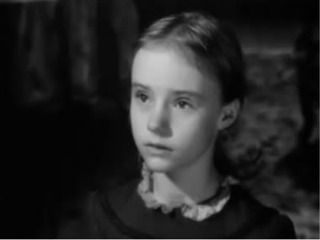 Peggy Ann Garner, 1944. We have a winner! Physically, Peggy is perfect for this part. She's small in stature and wears a drab, oversized dress that makes her look even scrawnier. Though you can't see it in these photos, her hair is in a messy ponytail, to hint that no one loves her enough to brush her hair. And of course, her remarkable face is very plain at first glance, but when you look a little closer, you notice her unique beauty and the old, wise look in her eyes -- no doubt all things that Charlotte Bronte intended for Jane. It's no surprise that a recent biography of Peggy was titled Plain Beautiful: The Life of Peggy Ann Garner.

See also our review of the new Jane Eyre (2011).