Amelia Clarkson may have only made one movie so far, but she's making it count. Jane Eyre was released on March 11, and reviewers are already calling young Amelia a show stealer for her performance as young Jane – a role that's been played by Oscar-winner Anna Paquin (in the 1996 film), Chronicles of Narnia's Georgie Henley (in 2006), and one child actress very dear to my heart, Peggy Ann Garner (in 1943). For more on their performances, see Who's the Best Young Jane Eyre?


Most recent young Janes: Anna Paquin (1996), Laura Harling (1997), Georgie Henley (2006), and Amelia Clarkson (2011).
See more at the Jane Eyre comparisons album
Jane Eyre is the film debut for 13-year-old Amelia, whose only previous acting credit was a 2009 guest spot on two episodes of a British sci-fi show, The Sarah Jane Adventures (which stars The Ballet Shoes's Yasmin Paige). She also voiced Dorothy in a BBC Radio production of The Wizard of Oz. Amelia currently attends the Sylvia Young Theatre School in London.

Making her film debut alongside her is Romy Settbon Moore as adult Jane's little French ward, the adorable Adele. (Previous Adeles have included Edith Fellows in the 1934 film, in which the character was British.) An important reason Romy was cast is that like Adele, ten-year-old Romy is bilingual – she was born in London to a French mother and a Welsh father. She also plays the violin.

A few Helens: Elizabeth Taylor (1943), Leanne Rowe (1996), and Freya Parks (2011).
See more at the Jane Eyre comparisons album.
This 2011 update of Jane Eyre has much in common with the 1943 production, conveying the classic novel not as a winsome love story, but as mysterious, gothic horror/romance. There's plenty of focus on the child abuse young Jane suffers from her cruel aunt and cousins. The scenes aren't easy to watch, and no doubt they weren't easy for Amelia to film, but she rises to meet the challenge in every scene – as does 13-year-old Freya Parks, who plays young Jane's only friend, the sweet and sickly Helen Burns.

The 1943 Jane Eyre has always been my favorite version of the film, largely because it has three such extraordinary child actresses – Peggy Ann Garner as young Jane, Margaret O'Brien as Adele, and the recently-deceased Elizabeth Taylor as Helen. In my opinion, while this new movie doesn't quite stack up, of all the Jane Eyre movies made since 1943, this the first one to give my old favorite a real run for its money.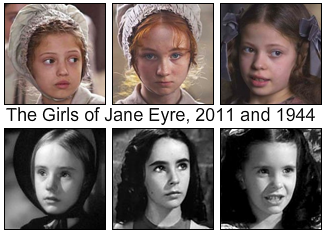 Top, Jane Eyre 2011: Amelia Clarkson as young Jane, Freya Parks as Helen, and Romy Settbon Moore as Adele.
Bottom, Jane Eyre 1943: Peggy Ann Garner as young Jane, Elizabeth Taylor as Helen, and Margaret O'Brien as Adele.
The bottom three headshots come from my favorite website, Young Actress Reviews. You gotta love how Romy and Margaret have similar hairstyles and expressions!