Film:
The Conjuring
(2013). Young Actresses:
Shanley Caswell, Kyla Deaver, Mackenzie Foy, Sterling Jerins, Joey King,
&
Hayley McFarland.
No less than
six
young actresses star in this above-average horror movie; Shanley, Hayley, Joey, Mackenzie, and Kyla play the five daughters of a family who move into a haunted house, and Sterling (real-life sister to
Ruby Jerins
,
Remember Me
) plays the daughter of a husband-and-wife team of paranormal investigators who are called in to help. Of course, with so many young actresses in one film, some are going to have more memorable roles than others. The two with the most individual screentime are probably Sterling and Kyla. The youngest of the five sisters, April (Kyla) gets fed up with her big sisters telling her that she's too little play with them, and as kids in horror movies so often do (
Paranormal Activity 3
, for example), she makes an imaginary friend. But refreshingly, this imaginary friend
isn't
an evil spirit in disguise; it's actually the harmless ghost of a little boy who was killed in the 1930's, by the same spirit still haunting the house. When April gets scared, he shows her where to hide.
Kyla's character is too young to know to be scared, but Joey gives an impressively terrified performance, while Mackenzie, in eery sleepwalking and possession scenes, shows off that blank facial expression that she probably learned from her adult costars in
Twilight
. Unlike so many adults in haunted-house movies (
Don't Be Afraid of the Dark
, for example), the parents in this one
aren't
too stupid to live; they immediately enlist help. The paranormal team (Patrick Wilson,
Little Children
& Vera Farmiga,
Orphan
) are refreshing in their practical approach to exorcising the house. My only complaint would probably be the anticlimatic ending.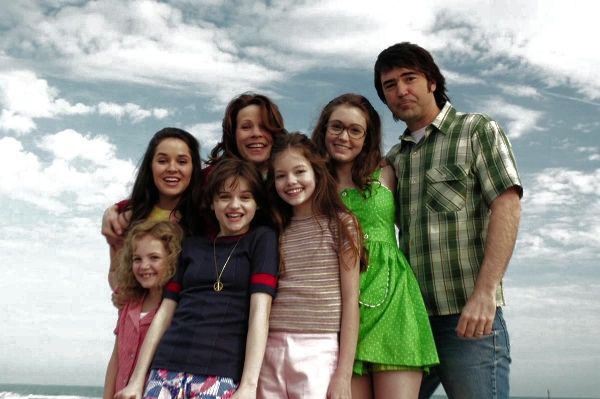 The five Perron sisters pose for a photo with their parents